Photos, videos, time lapse
NightCap Camera is a powerful app that takes amazing low light and night photos, videos and 4K time lapse. Long exposure produces beautiful photos in low light and unique Astronomy modes capture the stars, Northern Lights (Aurora) and more!
Night photos: Better and easier with AI assistance
Do you find your photos and videos dark and grainy in low light? NightCap will help by unlocking the full potential of your iPhone or iPad's camera.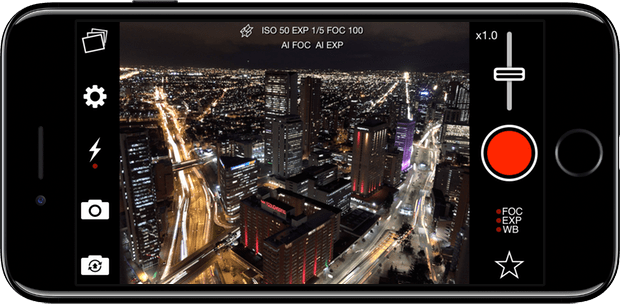 AI camera control makes it easy by automatically setting optimum focus and exposure for a brighter, clearer shot. All you need to do is hold steady and tap the shutter. If you prefer manual control then instant gesture based adjustment is always available, and special camera modes give you DSLR like results. You can even shoot photos, videos and time lapse in black and white if you want to.
Take amazing photos with Long Exposure or Light Trails
Long Exposure
Try Long Exposure mode for amazing motion blur effects and reduced image noise in low light. NightCap has an ISO Boost feature that allows 4x higher ISO than any other app, producing much brighter low light photos with low noise in Long Exposure mode!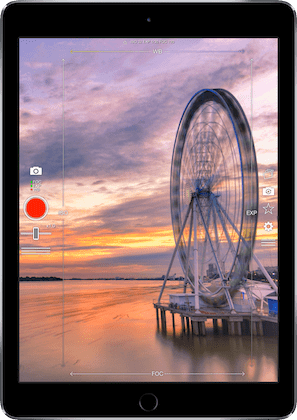 Light Trails
Light Trails mode preserves moving lights – ideal for moving traffic at night, fireworks or light painting. These modes are stunning when combined with HD or 4K time lapse!
Astronomy
There are 4 dedicated astrophotography camera modes:
1. Stars
Ideal for a starry sky or Northern / Southern Lights (Aurora)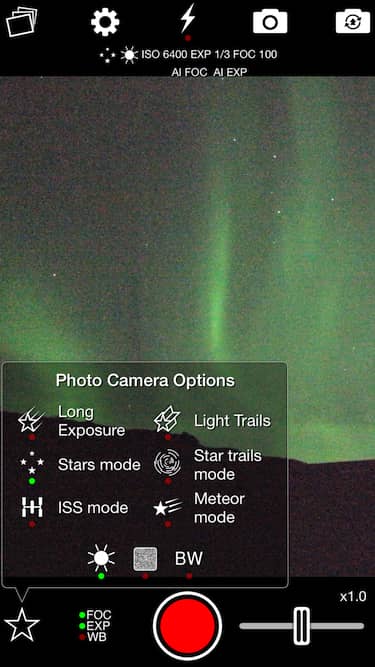 2. Star Trails
Watch the stars paint circles in the sky!
3. ISS
Designed to take amazing photos of the International Space Station (and other satellites) as they arc across the night sky
4. Meteor
Automatically takes hundreds of photos, but only saves any that might contain a shooting star
Main features:
Low light video recording with special Night Mode and full manual control.

Time lapse recording with adjustable speed, long exposure and light trails support and up to 4K resolution on iPhone 6s or newer or 1080p HD on older devices.

Innovative manual camera controls designed for photographers: intuitive gesture-based control of exposure, ISO, focus and even white balance. Simply swipe to adjust.

Aidie, a fully automatic AI camera operator chooses the optimum camera settings for you automatically, meaning brighter, clearer photos in low light with less risk of blurring the shot. All you need to do is hold steady and tap the shutter.

AI enhanced focusing in very low light for fast, reliable focus.

AI Tips Aidie will advise you on how to improve your photos. Just look for the ! button that appears at the top right of the screen and tap it to view the tip. For example, if it's too dark she'll suggest turning on the Light Boost feature.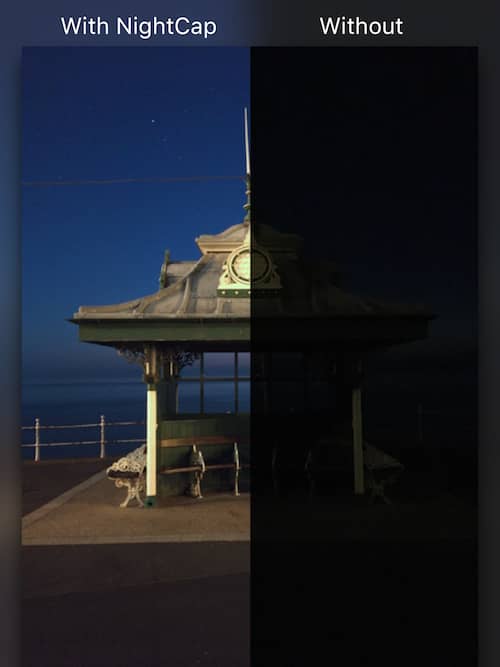 Additional features:
Automatic camera modes for Meteors (shooting stars), ISS (International Space Station), stars and star trails make these difficult tasks easy.

Long Exposure mode: Capture detailed, noise-free low light shots.

Light Trails mode: Perfect for light painting and even astronomy: photograph star trails with unlimited exposure time!

ISO Boost allows up to 4x higher ISO than any other app.

Light Boost instantly boosts brightness while preserving image detail.

Noise Reduction Mode helps reduce image noise.

8x Zoom control (camera-style for easy, smooth zoom).

Full Apple Watch support with live preview and control of the main app features.
Stars Mode is for photographing the night sky. It sets the camera up for you for best results – just point the camera upwards, place in a tripod or a secure position, and tap the shutter.
Star Trails Mode takes very long exposure photos (at least 15 minutes is recommended) of the night sky, so that the movement of the stars across the sky can be seen.
Meteor Mode helps photograph meteors (shooting stars). Turn this mode on and point your camera up at the sky (ideally during a meteor shower). Tap the shutter, wait an hour or so, and see what it's captured!
ISS Mode is designed to take amazing photographs of the ISS (International Space Station).
Pro tools
Zoom control (camera-style for easy, smooth zoom) Optional high quality JPEG or perfect quality TIFF photos

Live shutter speed and ISO display

Volume button shutter control

On-screen grid to aid composition

Self timer

Versatile interval programmer

Geotagging (saves location with photo)
Watch Support
NightCap Camera fully supports Apple Watch. A separate Watch App will install on the Watch, which communicates to NightCap on your iPhone.
With live preview, you can take photos, record videos, and control many of the app's features directly from your wrist (press firmly to open the menu).
NightCap Camera requires iOS 11 or later, and is designed for both iPhone and iPad